Nursery is a special time for a child and is usually their first level of education. In this time period, children become acquainted with new skills, they will experience various pastimes, and they will begin to participate in school lessons type of learning. Most children start going to nursery between the ages of three months to six years old. Although kindergarten is not a formal course-like school, most parents send their children to kindergarten for growth and development. The Curriculum of nursery also plays a very important role in educating children.
Nursery teachers
Early Years Educators (also often referred to as Kindergarten educators) are experienced professionals who have been trained in how to communicate with children. These professionals have a variety or qualities and skills. Such as knowledge, energy, patience, passion for their work, management skills, clear understanding of the Curriculum which their nursery follows and creativity. These are the most important factors that every kindergarten teacher should have.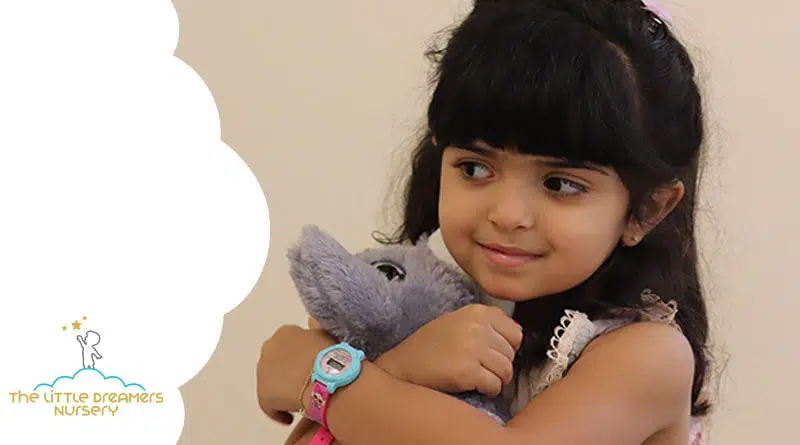 What do children learn in kindergarten?
Kindergarten teaches children different concepts according to the educational programmes in which they follow. These can vary according to their type and amount of tuition, but in general, all kindergartens have basic programs and these are what kids can learn in nursery, which are as below:
Painting is a useful skill for every child to learn. Painting can help to increase children's creativity and will also help to develop their fine motor skills/grip of one-handed materials. Painting and drawing also has been proven to increase children's happiness.
In kindergarten, children will learn the basics of math. They will do this in a variety of ways such as learning with an abacus, recognising the number of objects, finding patterns among numbers and practicing shape recognition are some of the things a child will be  taught.
Although learning a foreign language has many benefits for children, mastering the English language is greatly beneficial as it is such an international language. In the future, this will help to provide the children with more job opportunities when they are adults. Most nurseries make teaching the English language their primary program due to this. During kindergarten, children will learn the basics and concepts of English, including the names of common objects and animals, counting numbers, letters of the alphabet, adjectives, toys, and basic communication phrases.
Music plays an important role in child development and it is what kids can learn in nursery. Exploring music helps to create joy and motivation in children.  In kindergartens, educators will teach children how to control their voices through rhythmic and short songs.They will also focus on learning how to follow a beat by clapping or tapping their feet.
Craftsmanship is the making of objects and their composition. Handicraft is one of the most important activities for children in kindergarten. This is because it increases children's imagination, curiosity and creativity. It also enables the children to develop good problem-solving skills.

The difference between kindergarten, preschool, and individual care
Kindergartens often have more flexible programs than preschools, which are also suitable for younger children. Kindergarten is a fun place whose philosophy of existence is to provide the child with the opportunity to play, have fun and to sleep. Whereas preschools encourage creativity and cooperative games with the goal of elementary education, which focuses on the basic stages of a child's development.
The main goal of most nurseries is to prepare children for their school years. They pursue this goal by teaching many social and academic skills. Unlike kindergarten, in preschool, the focus is on elementary and educational education. This training prepares children for formal schooling and will help to push them forward in the first few years of school. Preschools have a more structured and formal curriculum, as well as providing some degree of social interaction.
Reputable preschools usually have teachers with education related to the field of primary education. Whereas kindergartens may lack this level of specialization.
Kindergartens may have a special out-of-school childcare programme that is open during the summer. Some preschools may also offer these types of services also.
Read more about The difference between kindergarten and preschool here.

Kindergartens accept younger children whereas preschools are for children between 5 and 6 years old generally. However,, sometimes younger children who show signs of interest in learning and connecting with others are also ready for preschool. Although it is not possible for these children to attend preschool, they can look for a nursery which is more in line with preschool goals. In some countries, such as Canada, children between the ages of 2.5 and 5 can enroll in preschool. Preschool is not suitable for children who still need a lot of individual attention, special needs or severe separation anxiety.
In single-person care, such as a babysitter, nanny or childminder, more personal attention is focused on children. Whereas in preschool and kindergarten, the ratio of the number of children to the educator is not an issue.
Finally, kindergarten may not be a good choice for all children, but it is an excellent choice for many. Keep in mind that not attending kindergarten may cause your child to lose learning in the early years of school, it may disrupt their individual potential and their social interaction. It also may increase a child's anxiety about entering school. For this reason, the country's education experts emphasise that all children must have completed kindergarten education before entering the first grade.
Benefits of nursery
In the nursery age period, the brain is developing rapidly and is in a so-called critical period. Therefore early years curriculums, such as those provided in a good kindergarten, will help to facilitate the child's developmental stages. Social and emotional development is one of the benefits of kindergarten for children. In kindergarten, children's ability to think, understand, to use language and fine motor skills is enhanced through play, art, dance, music, mobility, and communication with others.
The child learns in kindergarten to be a professional learner which is greatly beneficial in preparing them for school learning. Effective learning is achieved by fostering communication skills, boosting self-confidence, learning creativity (creativity play for kids), and developing the skills needed for reading, writing and math.
In a good kindergarten, programmes are designed and implemented which focus on raising the child's development  in the following key areas:
Social skills such as playing calmly and persuasively while sharing with others.
Self-awareness and respect for others.
Emotional skills such as understanding one's emotions.
Learning numbers, counting objects and recognising geometric shapes.
The pleasure of learning and participating in group activities, for example, talking to others, making things with the help of peers.
The ability to make new friends.
Facing new ideas and concepts.
Developing the child's self-confidence and self-esteem by strengthening language skills through group discussions with educators and other children.
Modify the pronunciation of words and expand the vocabulary.
We recommend taking a look at this page to learn more about the nursery fee in Dubai.
What else can kids learn in the nursery?
At the Little Dreamers Nursery, we believe that children are born capable and unique with their own interests, passion, and dreams. We aim to develop the children's abilities, well-being, dreams, and interests through a nurturing and inspiring educational program.
We are one of the few nurseries offering after-school activities in Dubai, such as Drama, Ballet, Yoga, Music, gymnastics, and Zumba classes. Some of these curricular are also included in our Nursery Program.
In this nursery in Dubai, we have chosen to follow the UK Statutory Framework for the  (Early Years Foundation Stage) which is underpinned by the principles that children are born ready, able, and eager to learn; actively reaching out to interact with other people and the world around them. Read more at the curriculum of The dreamersNursery
Here is a Brief look at our nursery activities:
Sensory and messy activities
Your beloved children begin to perceive their surroundings from the very beginning of infancy through the five senses. Do you remember that your baby puts everything in his mouth? This process continues into adulthood, but our nursery with Sensory and messy activities helps your child to use these senses well.  They are free in our nursery in Dubai to use all their five senses with pleasure
Arabic and French language
Due to Dubai being such a multi-cultural city, most parents are usually interested in their children learning additional languages from childhood, and our kindergarten has made it possible for your children to easily participate in French and Arabic classes in Dubai.
Photo album of Arabic activities
Photo album of French activities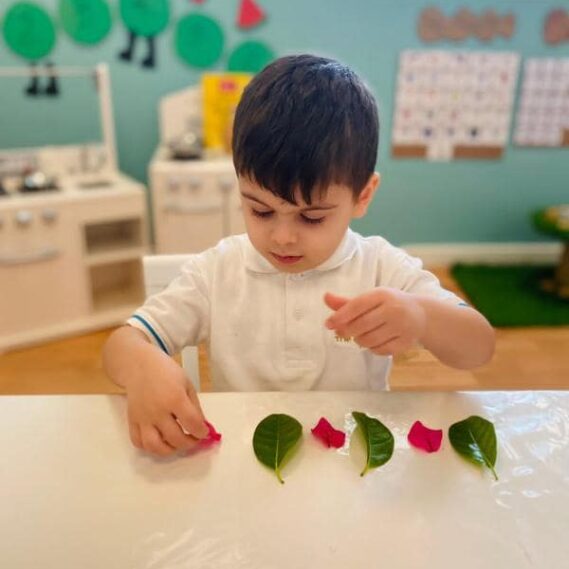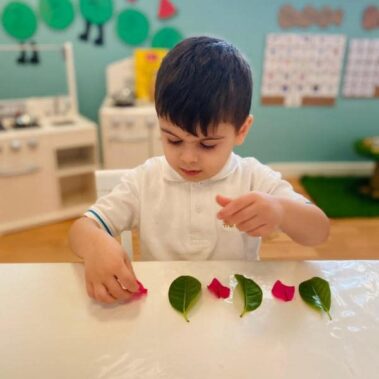 Mark making activities
Mark making activities develop skills in your child and improve scientific results. Mark making activities for 3-4-year-olds can improve your child's motor skills and increase the child's creative problem-solving abilities. Our activities such as cutting and pasting the paper, crafting with a finger, and narrating the drawings help your children to be more creative
Photo album of Fine motor skill and mark making
Yoga
In recent years, Yoga class for kids is well known to everyone and has been used for people with different conditions. Yoga in nursery has brought positive results for them. But have you ever considered encouraging your child to play yoga for preschoolers?
If you are looking for yoga for preschoolers. We have a Yoga class for kids in our yoga class in nursery in Dubai.
Fitness
Early childhood Physical development activities should be incorporated into children's lives to develop an active and healthy way of life for the rest of their lives.
Photo album about physical development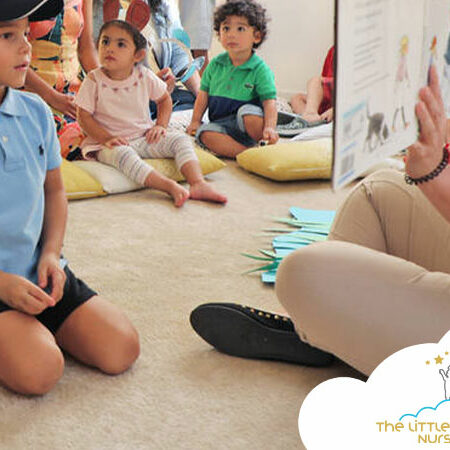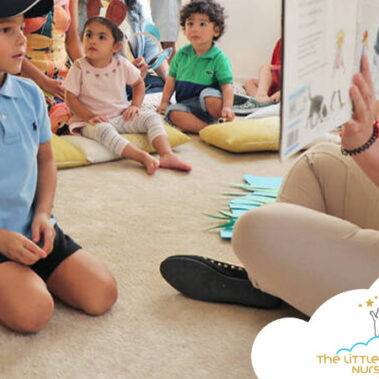 Story telling
Storytelling for nursery class is a creative expression of the imagination that requires words and interactions by creating variety in tone to create exciting and interesting stories for nursery class. In the following, you will get acquainted with storytelling for pre-nursery in our British nursery in Dubai. You will also learn about the benefits of storytelling for your children.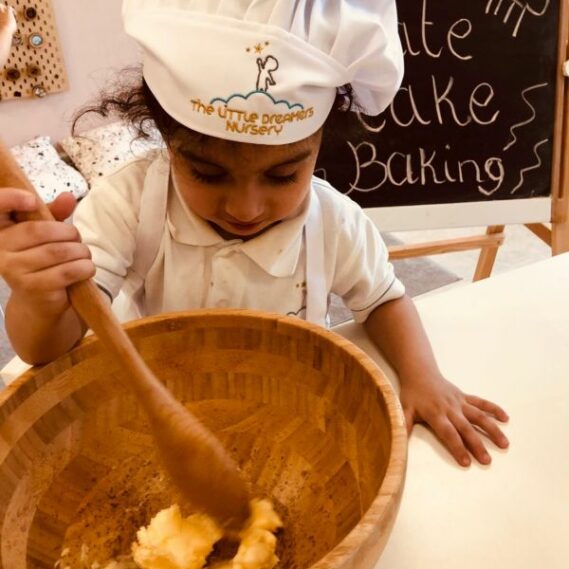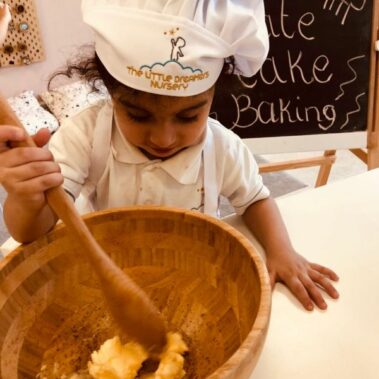 Little chefs
Your beloved children can cook in our nursery in Dubai. You no longer have to mess up your kitchen or teach your child to cook. Leave these Little chefs to us. Cooking nursery activities promote mental development and creativity and increase children's sensory and motor abilities. Children between the ages of 5 and 10 are very interested in cooking
Dance and movement
Music and movement activities for infants and toddlers mean using the body to express thoughts, react (positively) to music, and express emotions. We use Dance and movement for kids in Dubai. In our nursery in Jumeirah, we encourage your children to do different body movements in front of different pieces of music
Little mathematicians
Children feel maths in the nursery when they understand numbers very well. Your Little mathematicians in the nursery gain an understanding of numbers, for example, they understand what "three" really means and whether they represent a trio with the number "3" or the word "three" or a set with three objects.
Art and craft can develop skills such as creativity, decision making and critical thinking in the child.  As the best nursery in Dubai, we emphasise the importance of teaching craft activities for preschoolers to your children and include art classes in their curriculum. Our classes have considerable variety. From drawing and painting training to creating with natural resources.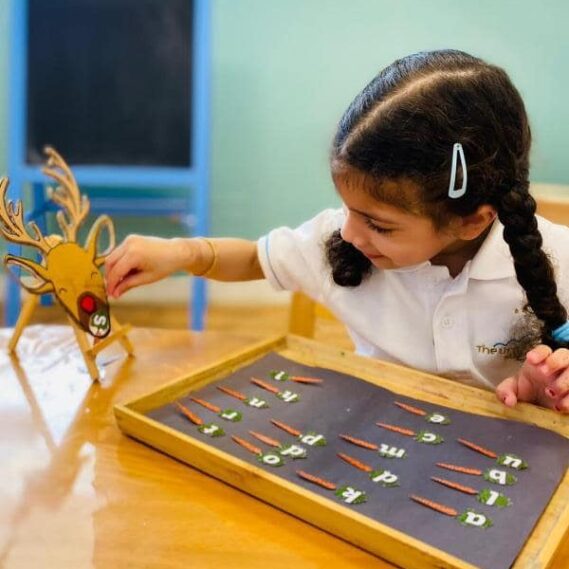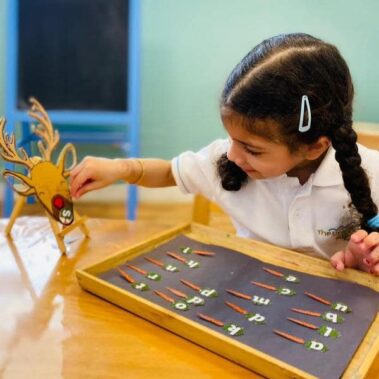 Phonics
Phonics activities in the nursery are very important in teaching English. Our British nursery in Dubai uses the most important tools to teach your children to learn correct pronunciations, especially for new words in British. At first glance Phonics activities in the nursery seem very simple but the child should be familiar with the variety of letters and sounds
Nursery activities for different ages from 3 months to 4 years old
Many people assume that a Nursery is just a place where they can leave their child for a few hours to have some time to themselves or to place their child whilst they go to work. However, a nursery is not just a place to take care of your child but a place to educate them and to develop their socialisation skills.
It is considered best for children to be in their family environment and with their parents until the end of 3 months old. Feelings of primary psychological security and emotional attachment must be properly and naturally formed within the family. From this age onwards, children also need social experiences. Communicating with peers and learning many concepts can be provided for children through community and peers. A child's social development, their understanding of how to communicate with others, their ability to learn the nursery environment's language and their understanding of verbal and non-verbal communication and all other child development skills will be supported in a good nursery centre in Dubai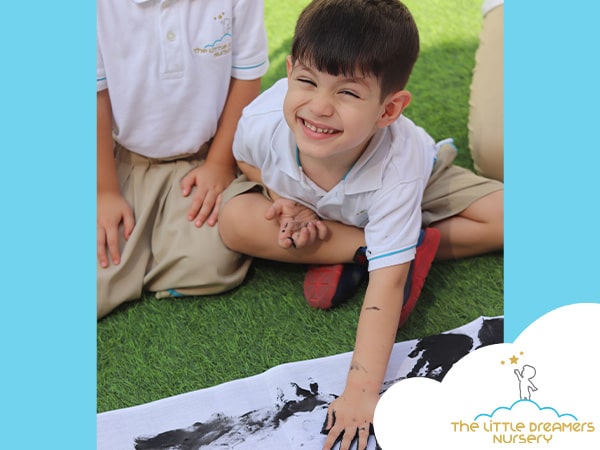 In a Nursery, the children's daily program (nursery curriculum) has a special routine. The children's sleep and eating routines follow a regular routine on a daily basis. Preschool play and learning activities can play an important role in raising children. New activities for children in a nursery class can be effective in entertaining children and engaging their interest in learning.
The Importance of Activities in Preschool (From 3 months to 4 years old)
Take the role of a nursery and activities in preschool in raising children seriously
We are all social beings; we need to be able to effectively communicate with others throughout our lives. This is another reason why attending kindergarten is beneficial as it can play an important role in supporting children's communication skills.
In social environments such as nurseries and preschools, they will help to teach children about boundaries, norms and values. As a child ages, the role of the family gradually decreases and the role of early years centres in modelling appropriate behaviour and social norms increases. Therefore, a nursery is usually eventually considered more beneficial for children than the home environment.
Children are far more vulnerable in the nursery and preschool than at home and with their families. This is because they will feel out of their comfort zone. If the educators at a nursery or preschool are trained, efficient, and specialized in raising children, they will be able to put the children at ease and help to raise them in the best possible way.
With the growing number of working parents, many children spend more than half of their day in nurseries and will acquire many behaviours, values and patterns from their early years centre.

Care and education in preschool can be listed as follows
1- Replacing the presence of parents. It is not just about care and nursing but the best thing to do is to pay attention to all aspects of the child's physical development and emotional upbringing.
2- Establishing human, moral, social, cultural, belief and religious values ​​in children
3- To develop each child's talents and abilities
4- Preparing the children to be ready for primary school
According to the above definitions, when a child enters the nursery, the most critical issue is to ensure their mental security in the new environment and create peace for the child in the preschool. Especially children under three years old who need more attention and emotional care at the beginning of the arrival due to having severe dependence on their family.
Admission to nursery should start from a few hours and gradually with the mother. The child should also stay longer each day than the day before. After a while (which cannot be considered the same for all children), the mother's presence in the nursery will gradually decrease and the child will stay in the nursery for a short time in the absence of the mother. It should be continued like this until the child gradually accepts the new conditions.
It is not recommended to stay with the child in the first days of entering the nursery for a long time without the support of the parents. If a child is unable to adjust for up to three weeks in their nursery or preschool, they should stop being cared for in daycare and find another way to care for them that is less traumatic to them. Staying in a nursery should enhance their academic and emotional development, not hinder it.
Children from the age of two and a half are not always satisfied being alone or with individual play. Usually, they are happy to see other children and tend to enjoy being with playmates. Therefore, the age of socialisation and joining the group, in the current conditions of our society, can be considered from about two and a half to three years old.
Therefore, the role of the nursery is important at this age. Parents who require to send their infants to a nursery, even from 2 or 3 months of age, must first be very careful in choosing the nursery and have all of the necessary information. Because these children are unable to understand why they are no longer in their family environment/comfort zone. Therefore, they should be placed in a place that is trustworthy in terms of meeting the specific emotional and physical needs of their age group.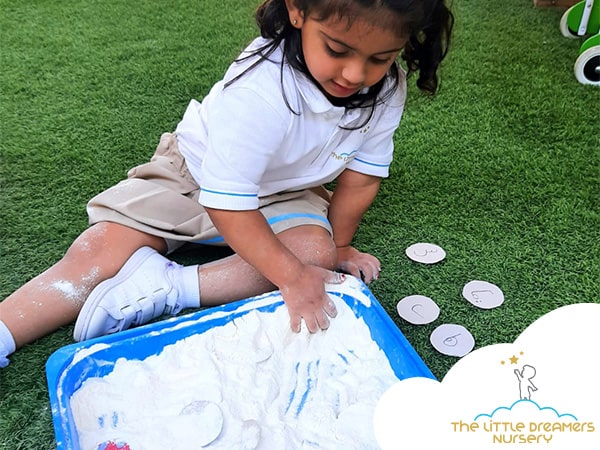 A nursery in Dubai or preschool should be able to fill the child's lack of emotional care of parents when joining a nursery by choosing a caring and kind educator that is aware of the issues a child may face upon joining their centre.
Psychological research on children under three years of age shows that children's emotional deficiency due to the lack of love of the mother or their career can make children more vulnerable and suffer from mental illness in the future. Attachment is a strong emotional bond between the child and the caregiver and is the basis of the child's future social and cognitive adaptation.
Many children who are taken from their parents in the first days of entering nursery and immediately handed over to the teacher with crying and screaming suffer from enuresis, fever and physical pain, insomnia, fears of unknown causes and sometimes stuttering. It is a sign of the anxiety that the child is experiencing in the face of the new environment due to the lack of psychological-emotional security.
Therefore, the quality and manner of the child's initial communication with their teacher/caregiver gradually take on wider dimensions and its importance becomes more and more apparent. Caregivers who are reluctant to meet the needs of children due to lack of interest in the child, high preoccupation, lack of funding or other issues, instead of providing a suitable environment for the child's development, will provide grounds for abnormalities in the child. They can limit and hinder children's abilities and capabilities.
The Little Dreamers Nursery invites parents to visit and experience the warmth and magic first hand through a nursery tour, we can then support you in completing the next steps for enrolment after checking out the curriculum and enrollment as follows:
Nursery Tour
Application Submission
Tuition Fee, Documentation, and Enrollment