The development of your child's literacy is critical to their overall growth. Literacy for kids is essential, and it will result in succeeding academically, socially, problem-solving, making decisions, becoming self-sufficient, managing finances, and working. What is literacy for toddlers? Literacy for toddlers includes activities such as singing, playing sound and word games, reading, writing, and drawing.
Everyday activities like eating, bathing, and shopping can be used to teach children to read and write. Literacy activities don't require much time; five minutes a few times a day is usually plenty. The trick is to teach your youngster at various times and places. If you want to put more time into your children's literacy skills, our Nursery in Jumeirah is ready to help. In this article we will learn what is child literacy and what are the best literacy activities for children from 0-5.
Kick the letter cup
Fun Learning for Kids suggests this pre-K activity that mixes letters with sports. When you've got many cups, you can write a letter on each one. After that, arrange the cups in a row, spacing them out a little. A little football (or another soft ball) should be given to your youngster and they should be instructed to kick the ball toward the letter cups. As soon as they've knocked a cup over, have them pronounce the letter that's on it.
Don't miss these articles:
What sport is best for my child?
What should a 4-5 year old know academically
Sorting letters according to colour | Literacy for kids
This Literacy for kids activity combines learning about colours and letters. A marker, coloured label stickers, and a printable rainbow are all you'll need to get started. Each circular sticker should have a letter written on it using the marker. Instruct the youngster to peel off each letter of the alphabet, say the letter, and then put it in the rainbow section that matches that letter's colour. Letter recognition, colour discrimination, and fine motor skills development are all aided by this.
Alphabet pillow jumping
This letter activity is a great way for your kids to burn off some energy. One enormous letter can be written on a stack of paper plates. To distribute the plates about the room, fasten them to pillows with packing tape. Try to get the youngsters to start on one half of the room and then leap to the other side without stumbling. Encourage them to say the letter or letter sound as they leap from one pillow to the next.
Game of connect-the-dots while using alphabet letters| Literacy for kids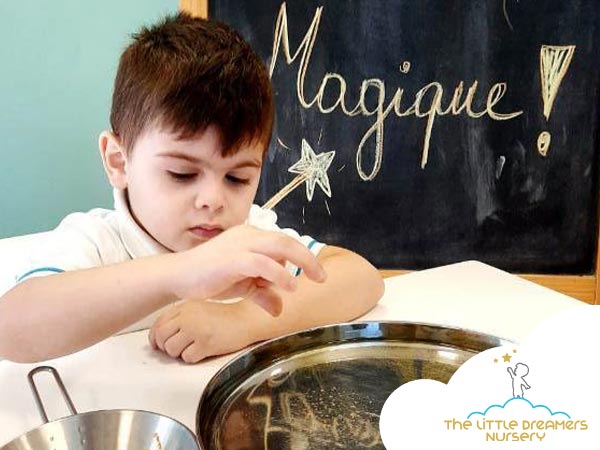 This is a terrific literacy for kids activity for teaching your kids about letters and encouraging them to use their imaginations. It's time to give the traditional connect-the-dots a modern makeover by writing a few letters in random patterns with a butcher's paper. As long as all of the alphabets are linked together, kids can connect them in any way they see fit.
Alphabet knockdown
This is a great letter recognition game recommended for kids who enjoy toppling things over! A pool noodle, some popsicle sticks, and alphabet stickers are needed to get started. Give your child a ball, then call out a letter, and see if they can hit it with their pool-noodle feet! Through this phonics in nursery activity, children's literacy will be enhanced.
A children's book in a bottle| Literacy for kids
Deborah J. Stewart's storytelling in nursery discovery bottles are great for literacy development. You can whip up a set of inexpensive and entirely adjustable Literacy for kids tools for your children's favourite stories in only a few hours. While reading a narrative to the class, a teacher can have the kids pass the bottle back and forth. This will help you concentrate.
Feather tip salt tray writing
This activity's name tells you all you need to know. Each child writes in their own tray of salt with a feather-tipped pen! This sensory writing experience is great for motor skill development because it disguises writing practise as playtime. To avoid any misunderstandings, let your students have some time to investigate the salt tray before assigning them a project to complete. Now let's see why is children's literacy important.
Reasons for Importance of Literacy for kids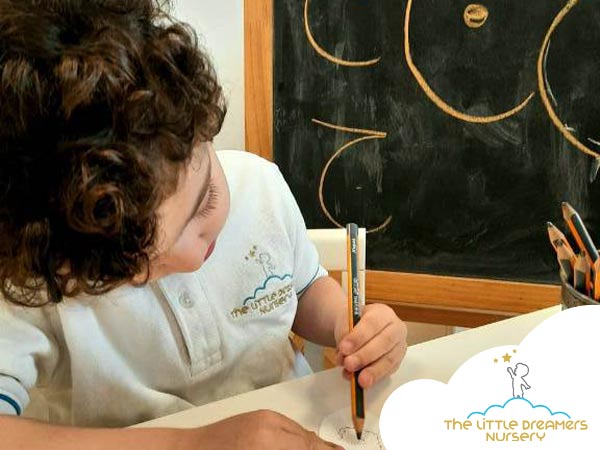 Set Their Future: Early literacy abilities are essential to a child's ability to read in the future, and a 4 year old literacy skills must be established before becoming 5.
All Learning Starts With Literacy: There is no one-size-fits-all approach to learning how to read and write. Early literacy development is critical to their future language, reading, writing, and overall learning in the first three years of a child's life.
A youngster must first be able to read and comprehend the material to progress in topics like math and science.
It Will Make Them Empathetic: Children exposed to a variety of rich literary experiences from an early age are better able to make sense of the world and its people. The types of books we read may impact how we relate to others, and reading fiction novels might help us better comprehend the thoughts and feelings of others. A more calm environment can be created by becoming more empathetic, and we can better comprehend each other's experiences, thoughts, and feelings.
Importance of Reading Aloud to Children
How can I improve my toddler's focus and concentration?
Conclusion
We can all agree that children enjoy playing literacy for kids activities. This list of activities is a terrific way to introduce letters and set the groundwork for a lifetime of education. But we have much more to offer at our nursery in Dubai. To find out more, please check out our nursery curriculum in Dubai.