Dance and movement for kids in our British nursery in Dubai
Music and movement activities for infants and toddlers mean using the body to express thoughts, react (positively) to music, and express emotions. In our
nursery in Jumeirah
, we encourage your children to do different body movements to different pieces of music, so they are taught about their physical movement abilities and use time and space in different ways.
Movement activities for kindergarten
We have added indoor movement activities to our curriculum to make sure you enroll your child in the best nursery in Dubai. Dance and movement for kids help to nurture your child's artistic mind. To get more results, we have used the best children's dance instructors to teach your child the appropriate movements and pay attention to your child's talents.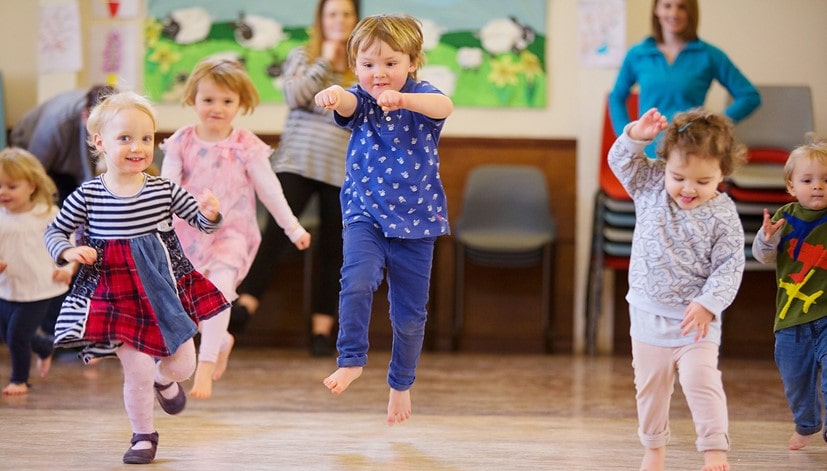 What do we teach for movement activities for babies?
Music is a combination of sounds or instruments to create pleasant melodies and sounds. Children learn music by listening to and interacting with a variety of sounds. So we provide opportunities for your children to play musical instruments, learn or compose songs, listen to music and talk about sounds. When children carefully examine musical instruments, create melodies, learn to sing as a member of a group and make their own vocals, they value different types of music and different forms of musical expression.
Our Dance and movement for kids in the kindergarten
Here are some examples of dance and movement for kids.
Imitate the movements of animals after walking and observing a farm.
Perform fast movements against fast music and slow movements against slow songs
Make sounds with musical instruments (various instruments).
Play musical games.
Learn the physical ability to move and use time and space in different ways.
We give children handkerchiefs and ribbons or flags to use when performing rhythmic movements with music and ask the children to move in different ways.
Different types of music are played so that children can move both fast and slow.
We teach children new words, such as "slow motion," "jump," "accelerate," "spin."
We have set up a section in the nursery so children can try out musical instruments and listen to or create music.
We introduce musical words to children: rhythm, beat, slow, fast, long and short.
When they play according to a rhythmic pattern, they create a song based on that rhythm.