Curriculum
At the Little Dreamers Nursery we believe that children are born capable and unique with their own interests, passion and dreams. We aim to develop the children's abilities, well-being, dreams and interests through a nurturing and inspiring educational program.
We are one of the few nurseries offering after school activities in Dubai, such as Drama, Ballet, Yoga, Music, Gymnastic and Zumba classes. Some of these curricular are also included in our Nursery Program.
We have chosen to follow the UK Statutory Framework for the EYFS (Early Years Foundation Stage) which is underpinned by the principles that children are born ready, able and eager to learn; actively reaching out to interact with other people and the world around them.
UK Statutory Frameworks
We are a British Nursery in Dubai and as such we follow the UK Statutory Framework for the Early Years Foundation Stage which is underpinned by the principles that children are born ready, able and eager to learn; actively reaching out to interact with other people and the world around them. At the Little Dreamers Nursery, we use 'Development Matters in the Early Years Foundation Stage' (EYFS) as our core set of learning objectives and teach the skills necessary for children to meet typical age related expectations. The Development Matters document is guidance material that supports us in implementing the statutory requirements of the EYFS.
Practitioners at the Nursery need to become very familiar with this guidance, in order to confidently plan for the children's next steps in each area of the curriculum.
Enrichment Activities
We as the best nursery in Jumeirah enrich our curriculum through a variety of different activities. As a British Pre-school our curriculum and enrichment activities are delivered through planned learning opportunities which cover the 7 learning and development areas of the EYFS. Children will be given opportunities to engage in stimulating and challenging activities within projects and during the different extended care programs that are designed to develop and enhance independence, communication, skills, problem-solving and inventive & creative thinking.
The enrichment activities in our nursery curriculum will vary from time to time and can include the following:
Music and Movement for Expressive Arts and Physical Development.
Messy Fun to explore creative talents and skills in a free and unstructured environment.
Investigation Station for exploring and investigating scientific concepts and the world.
Outdoor Gross Motor Play for Physical Development.
Indoor Gross Motor Play with movement and building for Physical Development.
Water and Sand Exploration for Understanding the World.
Bike and Trike Track for Physical Development.
Sensory Play to explore the senses and learn new concepts about themselves and the world around them.
Enrichment Activities are planned and delivered by our Class Teachers and we invite them to be creative and imaginative in designing new creative opportunities for the children to explore the curriculum in different ways.
The Third Teacher
The organisation of the physical environment is crucial to our early childhood program, and we as the best British nursery in Dubai often refer to it as the "third teacher". Every inch of our space must, to the best of our ability, be designed and used to respond to the children's interests and allow for sophisticated, appropriately challenging play without needing direct input from an adult.
Continuous provision
We at TLDN, expect children to have access to engaging materials and open-ended resources both inside and outside the classroom. Your classroom organisation and its enhancement will be observed during Performance Management periods. Teachers are expected to provide environments that follow these guidelines:
Environments are clutter free and attractive to children.
Materials are clearly organised to promote children's independence.
Accessible materials should be almost entirely for the children's use.
Teachers must provide in some way: a Role Play area, Story corner, Free Writing/Mark Making area, Small World area, Construction Area, Creative/Cut and Stick table, Play Dough table, Number resources
Materials must be regularly changed, added to or reorganised in order to sustain the children's interest and engagement.
EAL Learners
We as an award winning nursery in Dubai expect that all children will make progress in line with each other. We aim to ensure that a child's first language or diverse background will not become a barrier for them in making the most amount of progress. All children's progress will be tracked using the Nursery systems and additional support or challenge can then be provided for individual children.
Language
TLDN is a British nursery in Dubai and as a British-curriculum setting uses English as its language of instruction. We fundamentally believe that the majority of non or limited English speaking children will develop their language effortlessly through our planned and free learning through play educational program. However, we have also adopted the 'One Step at a Time' program which is a speaking and listening program for children from the age of 3 who need extra support through their FS1 year in the nursery. One Step at Time is a unique program, taught by class teachers and support staff, that:
Identifies and introduces the spoken language skills that are crucial for children's educational progress and emotional well-being.
Sets out realistic teaching objectives and classroom procedures.
Supports differentiated teaching by providing simple methods for monitoring individual development and reviewing progress.
Additional Taught Languages
We also understand the benefits of children being introduced to new languages at a young age. In addition to choosing English as our language of instruction for all children, we will also be offering specialist Arabic and French, these programs will be: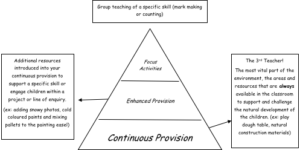 Taught by specialist teachers
Planned and delivered to complement the play based, child – initiated teaching and learning philosophy of the nursery.
We as the best British nursery in Jumeirah , believe that children should be heavily involved in the direction of their own learning. We must be available to support the children on this journey, to challenge their learning as and when it is most valuable. This means that teachers will only spend a small portion of their day involved in specifically planned Focus Activities.
The Little Dreamers Nursery Admissions Process
We invite parents to visit us and experience the warmth and magic first hand through a nursery tour, we can then support you in completing the next steps for enrolment as follows:
Nursery Tour
Application Submission
Tuition Fee, Documentation and Enrollment