Do you know the benefits of connecting children with nature? Most of us spent time in nature as children, climbing trees, investigating rocks and bugs, or playing outside with friends. We had no idea that our enjoyable activities strengthened our minds, bodies, and personalities for the future. A recent study found that nature exposure has various long-term effects. Talk about nature for children and how to help nature.
What are the benefits of connecting children with nature?
We can mention the benefits of connecting children with nature: Physical, emotional, and cognitive growth. Children playing in nature can benefit from nature ideas for children and the ever-changing and free-flowing environment that they encounter when they are outside and in contact with nature.
Intellectual benefits
Regarding education, the natural world is a vast open-ended laboratory. Children are intuitive scientists who like exploring the natural world through their senses. Children learn by experimenting with concepts as they interact with natural environments. In nature for children programs, children develop curious minds by questioning, problem solving and making theories. Remember children exploring nature can experience good thinking, such as balancing on rocks or talking about hibernation. Here are some great nature games and activities for children:
Building and digging in mud
Worm hunts
Gazing at clouds
Jumping in puddles
Listening to the birds' sing
Making bird nests
Collecting seeds
Constructing with natural materials
Emotional benefits of connecting children with nature
Let's take a brief and quick look at the benefits of connecting children with nature. It's a pleasant feeling to be outside. Outside, children are free to run around, make noise, and explore the world around them. Physical activities in nature, help children to relax and also benefits their Personal, Social and Emotional Development. Children develop an Understanding of the World, where they show care and concern for animals and nature.
Social benefits
When children are playing outside, they may meet new people and make new friends. Playing individually or with others, helps children to learn share taking and problem solving in nature. They can think independently and solve various problems when exploring outside. Playing outdoors is calming and helps children's social interaction skills and communication and language. Remember, nature activities for young children are very beneficial. In our Indoor Forest in nursery, the children explore nature.
Physical benefits of connecting children with nature
What are the physical benefits of connecting children with nature? Children benefit physically from being outdoor, as there is more space to run around, have fun and play bigger physical games; which increases their gross motor skill development. One of the many advantages of exposing children to the sun and fresh air, is a healthy immune system. In addition to being much more physically active, children can burn more calories and improve their overall health. The following are outdoor nature activities for children:
Climbing trees
Playing catch
Balancing games
Jumping in puddles
Nature Race
Environmental benefits
It's not just the individual benefits that nature provides; it's also a shared benefit for everyone. There is a universality in the shared experiences of children worldwide who play outside. Nature projects for toddlers will teach children how to care for nature, animals and the world around them.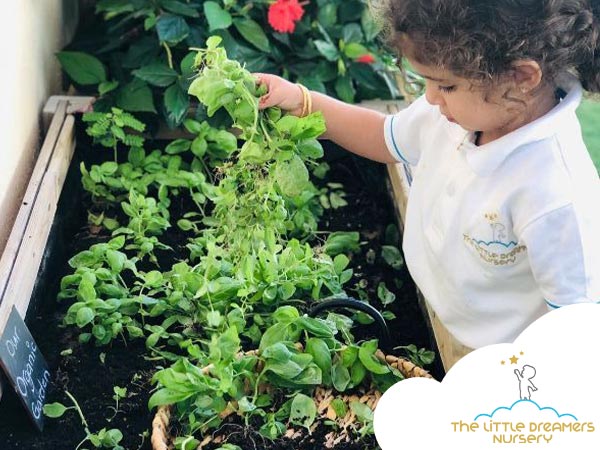 Conclusion
Now you are fully aware of the benefits of connecting children with nature. In our nursery in Jumeirah, they learn about nature and outdoor activities. A child's confidence builds throughout time as they learn to trust their intuition in the natural environment. We provide the necessary nature information for kids in natural environment for kids that we have in our Nature school Dubai.
Book a Tour Now to Visit our Nursery in Dubai!
and
Follow us on The Little Dreamers Nursery Instagram page.