Do you have to send your child to nursery?
Surely, when your baby is born, you will enjoy spending time with them, caring for them, as well as taking care of their various needs, and finally becoming a mother.
However, if you are employed, this enjoyable period may end sooner than you wish, and you will have to return to work. In this case, you should consider sending your child to a nursery and research what are the benefits of joining a nursery.
Is nursery compulsory?
Going to a nursery requires some skills. The thought of leaving your child can be daunting. However, Kindergarten is a good option for parents who cannot be with their children due to job restrictions or other reasons.
On the other hand, many parents are worried about leaving their child in Kindergarten and prefer to be with their child themselves. That's why they ask if sending children to nursery or Kindergarten is compulsory. We will deal with this issue in the following.
Effect of a nursery on babies
Parents may find it stressful sending their child to nursery as for most parents many families need two incomes to pay for it. In addition, while being unable to do everything themselves is also stressful. For many parents, they can be sure that a kindergarten is a good option for them. It's also good to note that Kindergarten provides long-term social, economic, and educational benefits for children and their parents.
Is kindergarten mandatory?
Overall it is not compulsory to send children of any age to nursery,  but also in recent years, the coronavirus has spread, it is also not necessary to send children to preschool. So when is the right time for starting Kindergarten? That is entirely down to you, the parents.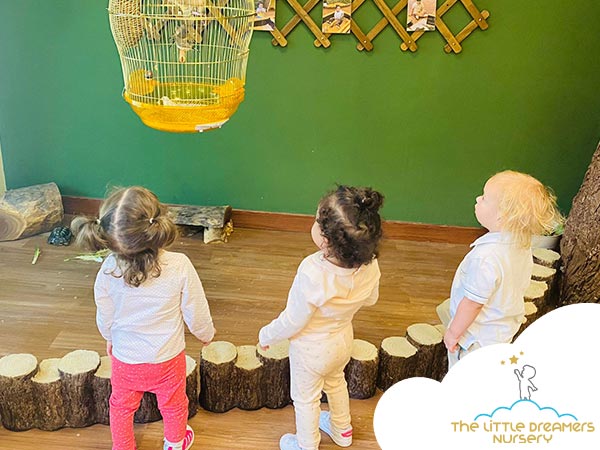 Various studies on the advantages and disadvantages of Kindergarten have shown that going to Kindergarten can have many benefits for them, some of which are:
• Children become social.
Kindergarten is a great place for children to get to know each other. These children may be the same age or different in age. Going to Kindergarten strengthens children's social skills.
• Planning is a skill that children learn.
Although kindergartens may not provide formal education, they provide a structured schedule of activities for the children. Your child may learn to do things on schedule, which is one of Kindergarten benefits for toddlers.
• Children begin learning at an early age.
Kindergartens take care of your child and provide a variety of activities for your children. These activities will help your child learn different educational concepts at a young age.
• Easier transfer to the school.
Children who go to Kindergarten may be better adapted to the formal education and school environment in the future. Read more: preschool separation anxiety
• The baby's immune system is strengthened.
Home is a protected environment and a safe place for your child, but not exposing them to other environmental conditions may not be good for your child's immune system. As a result, he is more exposed to different flu and colds, which is better for the body's immunity.
Read more: How can I boost my baby's immune system for daycare?
• Kindergarten is a place where your child interacts with many children.
Related Article:
Why are communication skills important in child development?
• Parental consent.
Every parent wants to be with their child, but sometimes this is not possible due to various limitations. Therefore, parents can ensure that their child is cared for and safe by placing their child in Kindergarten.

Send your child to nursery tips to choose the best
• Kindergarten is not just about caring for your baby. So, choose a daycare centre in Dubai that engages your child in various interactive and educational activities.
In this case, you need to know what is taught in Kindergarten and what you should be looking for:
• Choose a daycare centre that allows for time and flexibility.
• Choose a nursery that is close to home.
• Make sure that the kindergarten teachers there aren't changing frequently as this might un-settle your child.
• Make sure that the daycare centre in Dubai is licensed.

What Does An Early Childhood Education Mean?
Nursery education is basically for children whose age is between three to five. its prime motto is to take care of the children and provide them with attention, care, and basic learning for their future growth and development. Now, come to the purpose of the nursery in Dubai:
Early childhood education is a kind of program or education that is given to young children. When you admit your children to the preschool, you will get a bright future of your child. It will develop advanced learning.
Related article:  Best age to send child to nursery
There is a bunch of benefits of nursery education in Dubai:
You know that every young mind is like a soft toy. Whatever the caregivers teach to them in a preschool centre in Dubai, you will need to a concern of those things. Therefore, it is important to have the guidance of the parent as well as educators. You need to take care of every aspect of his development. You need to guide them through learning and through other activities.
Below are some of the benefits of a nursery school in Dubai. Unity among the children: There is so much diversity among the children. When children are in the preschool, they taught various activities and in this way, it can create a unity among them.
You need to appreciate the differences whatever they have.  Every child has a different experience. But when they share their individual experience, it creates a unity among them. As a parent, you should be concerned about this.
Development of the brain:
Preschool is the place where the children have the opportunity for developing their brain. This is the place where they can develop their skills and activities with the help of caregivers. Enhanced confidence and self-esteem: For exploring talents, a sense of wellbeing is important. When they interact with the educators and the peers, they can boost their confidence.
This is a very important point when you are talking about early childhood education.
Increase patience:
Patience is an important thing in every man, and kids are not different in them. If they have this patience, they can handle every situation in their life. It will help them in sharing their attention to the educators.
Develop concentration power: The educators help the children to develop their concentration power in them at a nursery for early childhood education. This will help them to increase their concentration skills.
Taking challenges:
In our continuous changing society, it is important to adjust in every situation. And, for this, you need to take challenges. When you take new challenges, you have the courage to accept the courage. Everyone has not the power to take challenges. The educators help them to develop the ability to accept every challenge.
Teamwork:
The children, who are from the preschools, have the ability to work or to learn in a team. They have gained the ability to listen to groups. Children can do any kind of activity to focus on the group. In this context, the educators help you to improve their attitude when they are in a team. All of the above factors help the child's physical, emotional and mental development. Hence, for increasing these qualities of your child, you need to admit your child to preschool.
The Little Dreamers Nursery, a British nursery in Dubai invites parents to visit and experience the warmth and magic first hand through a nursery tour, we can then support you in completing the next steps for enrolment after checking out the curriculum and enrollment as follows:
Nursery Tour
Application Submission
Tuition Fee, Documentation, and Enrollment
Follow us on Instagram.
Are you bringing your first child to the nursery? Do you know that it may take your child 2 weeks or more to settle in? Take advantage of nursery Camps in Dubai to help your child transition to school.