Potty training is a significant developmental milestone for every child, and parents often wonder about the role a nursery can play in this crucial phase. At The Little Dreamers Nursery, we understand the importance of a smooth potty training journey and the impact it has on a child's overall development. Let's delve deeper into this topic and explore how nurseries, especially ours, can be a guiding light in this essential endeavour.
Potty Training at Nursery
Understanding the Needs and Signals
In our nurturing environment, we pay close attention to each child's unique signals and needs, a crucial aspect of our potty training strategy. Understanding the child's cues enables us to assist them effectively during this phase, making the process smoother and less stressful.
Encouraging Independence and Confidence
We believe in fostering independence and confidence in our young learners. Our experienced teachers gently introduce the concept of using the potty, always maintaining a caring and encouraging tone. We encourage children to take their first steps toward self-sufficiency, making the potty training experience positive and empowering.
Don't miss: How to potty train in 3 days? A step by step Guide of toilet training for parents
Instilling Hygienic Practices
Apart from the basics of potty training, we emphasize the importance of hygiene during this process. Teaching children about proper handwashing and hygiene practices from an early age instills good habits that will stay with them as they grow.
Building a Routine
Routine is key when it comes to successful potty training. We work with each child to establish a consistent routine that includes regular potty breaks. This helps children become familiar with the process and understand when it's time to use the potty.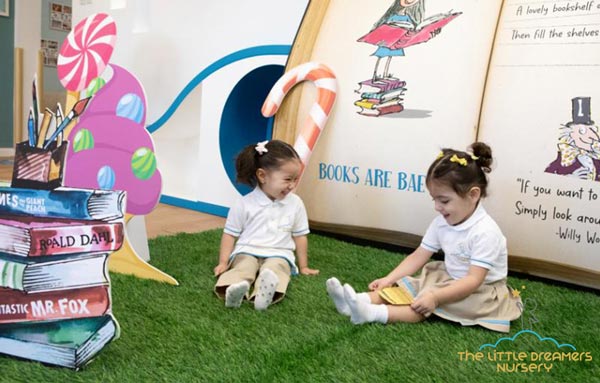 The Collaborative Effort: Parents and Teachers
Open Communication
Successful potty training is a collaborative effort involving both parents and our dedicated nursery team. We prioritize open communication, regularly sharing insights into a child's progress, habits, and milestones. This transparent communication ensures a consistent and supportive approach to potty training, both at home and in our nursery.
Tips and Techniques for Parents
We believe in extending the learning environment to the home. Our nursery in Dubai provides parents with valuable tips and techniques for effective potty training. These insights empower parents to reinforce what their child learns at the nursery, creating a seamless transition and a supportive environment for the child.
Parent-Teacher Workshops
To enhance the collaboration between parents and teachers, we organize workshops focusing on potty training. These workshops aim to educate parents on various approaches and techniques, enabling them to actively participate in and support their child's potty training journey.
Positive Reinforcement at Home
We encourage parents to continue the positive reinforcement techniques we implement at the nursery. Celebrating your child's efforts and achievements at home reinforces the message that potty training is a positive and exciting step toward growing up.
Don't miss: What do children learn in nursery?
Addressing Concerns and Tailoring Strategies
Additional Needs
Every child is unique, and some may have additional needs when it comes to potty training. Our experienced team is well-equipped to address these concerns and tailor strategies that suit the child's requirements, ensuring a positive and inclusive experience for all children.
Age-Appropriate Approaches
We understand the importance of age-appropriate potty training strategies. For younger children, it's about introducing the concept and creating a comfortable environment, while for older ones, we focus on building routines and self-awareness. Our strategies evolve as the child progresses in age and understanding, ensuring a tailored and effective approach for every child.
Positive Reinforcement Techniques
To make the potty training journey enjoyable, we implement positive reinforcement techniques. Celebrating small victories and milestones with praise and encouragement boosts the child's confidence and motivates them to embrace the process with enthusiasm.
Involving Siblings
For families with multiple children, we encourage involving older siblings who have successfully completed the potty training journey. Siblings can serve as positive role models, inspiring and encouraging the younger ones during this phase.

Fostering a Seamless Potty Training Journey
We take immense pride in creating a nurturing atmosphere where potty training is viewed as a natural part of a child's growth. At The Little Dreamers Nursery, we reassure both parents and children that this journey can be enjoyable, successful, and a significant stepping stone towards a child's independence and self-confidence.
Discover the Magic of Potty Training at The Little Dreamers Nursery!
Are you in Dubai and looking for a nursery that not only focuses on education but also supports your child in critical milestones like potty training? Explore The Little Dreamers Nursery, the best nursery in Jumeirah, Dubai. Let's join hands in nurturing your child towards a bright and confident future!
For more information on potty training in Dubai or to visit our nursery, feel free to reach out to us.