The following is a list of fun ideas for indoor nursery activities. Are you sick and tired of playing musical chairs? Then continue to read on! When it is too cold, hot, or rainy for kids to go outside to get some exercise, we all know they need to move around. Rather than dreading those days, here are some entertaining indoor activities for preschoolers to enjoy. These indoor preschool games, music, and movement activities are a great way to get your active preschooler moving even when it's cold outside. As one of the best nurseries in Dubai, we provide your children with a specifically designed indoor forest room that stimulates sensory exploration and curiosity in children.
Children's imaginations run wild, which is why they love being in natural settings like forests. Children will have a great time exploring this space in search of creatures or insects. This improves their situational awareness.
Music and movement indoor nursery activities

Freeze dance
It's one of the classic indoor nursery activities! Having music playing is required, with the one rule being that you must freeze when the music stops. Children like "freezing" in amusing stances or expressions. A wide range of various musical styles and tempos should be employed. While you dance with the younger children, an older youngster can play the music.
Indoor obstacle course
Move some furniture about to work on your gross motor abilities without damaging any priceless antiques. Use a laundry basket and sock balls to work on throwing and accuracy. You can build a temporary balance beam by taping some yarn or string to the ground. Run, leap, and hop around when you're stationary. Yoga moves can be added as well as timers. There is no limit to what can be done here.
A scavenger hunt is one of the indoor nursery activities for children
It's one of the simplest yet challenging indoor nursery activities. Is there anything you can find around the house in the form of a specific pattern or letter, or color? Use a clipboard to keep track of your progress and mark items off as you complete them. While playing scavenger hunt, the kids enjoy role-playing activities. We give them a 'camping' experience in our Indoor Forest area in this game. Aside from treasure hunting and role-playing, we urge children to explore the room and to come together in our treehouse to share their fantasy journey. So, hurry about, get your hands high and your feet down low!
If you're a fan of yoga, chances are your children are, too! Expect hilarity and music as you move along, and don't forget to laugh at the names of animal poses and make up new ones. Consider making flashcards with the titles of each stance, as well as an accompanying image. Airplane (the flying warrior), lion, and table top are common favorites in the classroom. When a little kid says, "Yoga calms me down!" It's amazing. This is considered one of the best indoor activities for nursery class.
Dancing like someone else is one of the indoor nursery activities that will make your kids get physical
Among the most fun indoor nursery activities Dubai is this simple activity. It's as easy as it sounds to play this game with two to 20 people. While one individual dances, the others imitate their steps. Being a leader is a joy for kids, and imitation is a kind of flattery. It's time to throw on some music and show off your moves!
Arts and craft indoor nursery activities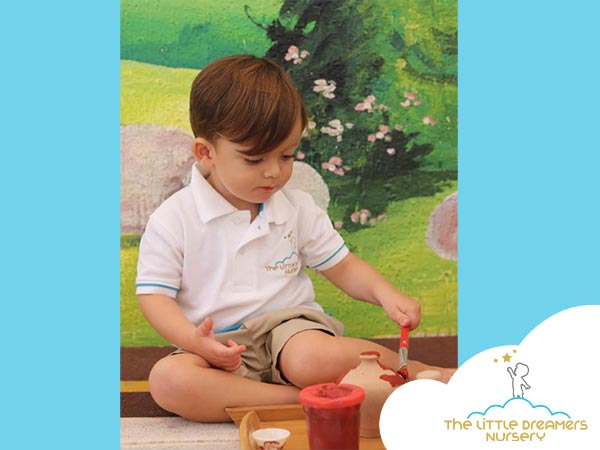 Make a collage with Recycled items
Take it easy and use anything that is near you. Make patterns, designs, and objects by arranging them on a placemat plate. Because the materials can be reused, take a picture of each one. Scraps of cloth and other little objects such as craft sticks and buttons can also be used. Among indoor activities for childcare, this one can boost kids' creativity.
Making stuffed animals at home
You can teach the art of crafting with indoor nursery activities like this. A plush animal (or insect!) may be made with just four items: a stapler, markers, construction paper, and recycled newspaper. It's a cinch to put together and always gets the kids excited. Cut out two identical forms from a single sheet of paper after tracing the contour of your animal. Add any detail you want. Now staple the two parts together halfway. Stuffing is the next step! Begin stowing your masterpiece with pillow filling from a craft store, or rip up and roll up some newspaper. That's it!
Sorting ice cubes and creating patterns with a tray
There are many ways to combine arithmetic with art and fine motor abilities, and this is one of them. To get started, you'll need an ice cube tray, egg container, muffin tin, and a variety of dry beans, buttons, coins, or marbles to play around with. Plastic rings or earrings that have been separated from their loved ones add to the excitement. Make patterns with the items or develop a new game for your child to play with them. With so many options, there are no right or wrong answers in this game style, which combines logic and mathematics. Pick up the things with tweezers or clothespins for an added layer of excitement and challenge.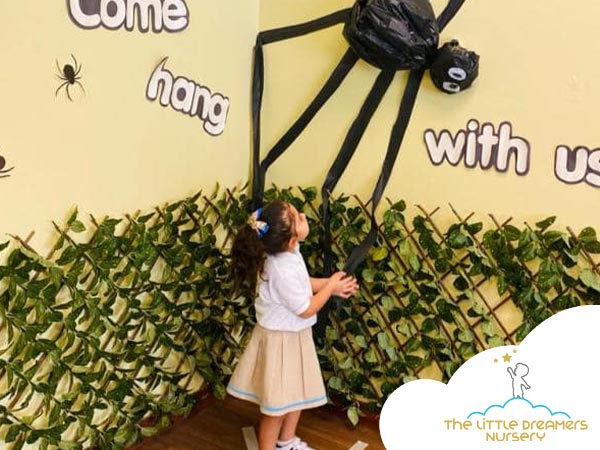 As you have seen there are various indoor nursery activities that you do with your kids at home. We are proud to say that our nursery in one of the best in terms of indoor activities. Through exploration, problem-solving, and encouragement to learn how to assess and take acceptable risks based on the environment, our indoor forest room can boost a child's confidence and self-esteem (we even have a Tortoise and birds for more fun!). In our nursery in Dubai we try our best to bring new educational and creative activities and games, except the ones that we mentioned above for your children.
Follow us on Instagram