The trait of children's curiosity should be encouraged in youngsters since it catalyzes children to develop an interest in the world that surrounds them. Why are toddlers so curious? Curiosity is a powerful learning tool for kids.
A novelty detector prompts them to shed light on the mysterious and dispel doubt. When confronted with something new, they thoroughly investigate it using all their senses until it becomes familiar. Curious folks may be happier overall.
Also, is it normal for a 2 year old to be curious? Of course, they are at their peak of being curious about everything. Wondering at what age does curiosity peak? Well, it's usually when they are four years old. How to teach a child to curiosity? The following is a list of eight suggestions for assisting parents in fostering an interest in learning among their children:
Encourage asking questions| children's curiosity
How does a child show curiosity? By asking various questions. Encourage children's curiosity by making your youngster ask questions. Make it abundantly evident to your kid that you want them to ask questions about everything they see and do, and double-check that they are aware of this. Give them answers to their questions that have been well-considered, and encourage them to keep asking more and more questions as time goes on.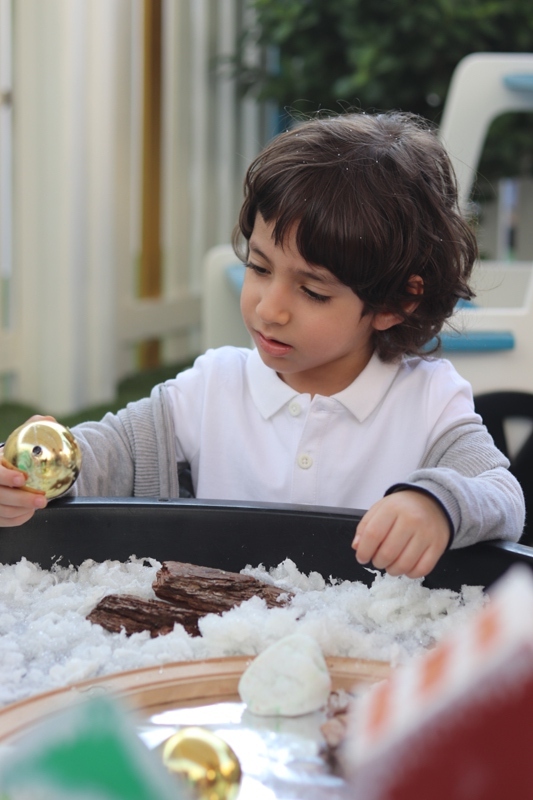 Make learning fun
Infuse the process of promoting children's curiosity with a sense of joy and playfulness. The method of education does not always have to be monotonous. You should try to make learning exciting and enjoyable by including activities like games, experiments, and projects that need hands-on participation. In our nursery in Dubai, we try our best to encourage children's curiosity in a fun way.
Follow their interests| children's curiosity
Regarding children's curiosity, pay attention to the things that are intriguing to your child, and try to find methods to include those things into the educational activities they participate in. With this aid, your child's learning process will be less difficult. They will be able to keep their level of engagement and will continue to be motivated as a result.
Read together
Taking turns reading aloud to one another Taking turns reading aloud to one another is a terrific method to encourage one another's creative thinking and natural curiosity.
You can assist your child in developing their capacity for critical thinking by reading books aloud to them and then engaging in conversation with them regarding the subject matter of the books they have read.

Explore the outdoors| children's curiosity
Spend some time outside for children's curiosity and be aware of the natural world around you; doing so will present you with countless opportunities for learning and discovery if you do so. You should take your child on nature walks through the woods, take them on bug hunts, and encourage them to be curious about the surrounding environment and to ask questions about it. Mud play benefits
Allow for free play
Make room in your agenda for spontaneously enjoyable activities. Children have a natural need to use their imaginations and express their creativity. Open play allows them to do both of these things.
Therefore, children must have access to open play when they are growing up. You should offer your child toys that may be played with in various ways, and you should encourage them to play by themselves as much as possible.
Foster independence| children's curiosity
If you want your child to acquire a sense of independence and enhance children's curiosity, give them the freedom to choose their own activities and provide them with the responsibility of making decisions regarding those activities. Doing this for your child will help them become more independent and take more responsibility for their education. If you do this for them, they can build their independence better.
Be a role model
To serve as a model for your child, you should demonstrate your enthusiasm for the issue at hand and encourage your child to explore and learn with you. This will allow you to serve as a model for your child. Children learn habits and attitudes through watching others. If you want to be an excellent example for them, be curious about the world around you and what is happening.
Conclusion
In conclusion, encouraging children's curiosity is essential in forming their overall character so never underestimate the importance of curiosity in early childhood. In our British nursery in Jumeirah, children are encouraged to read together, learning is fun, the curriculum can be adapted to the children's interests, and we make it comfortable for them to ask questions.