Unlocking the Magical World of Reading in Kindergarten
Kindergarten, often referred to as the first step into the world of formal education, is an exciting phase in every child's life. It's a time of wonder and curiosity, where they take their first steps into the magical realm of literacy. But a common question that parents and educators often grapple with is, "Are kindergarteners supposed to be able to read?"
Laying the Foundation: Early Literacy Skills
In kindergarten, children are introduced to the foundations of literacy. They embark on a journey that unfolds the beautiful world of words, sentences, and stories. However, it's crucial to understand that the goal at this stage is not full-fledged reading novels but rather to lay a strong foundation for future literacy.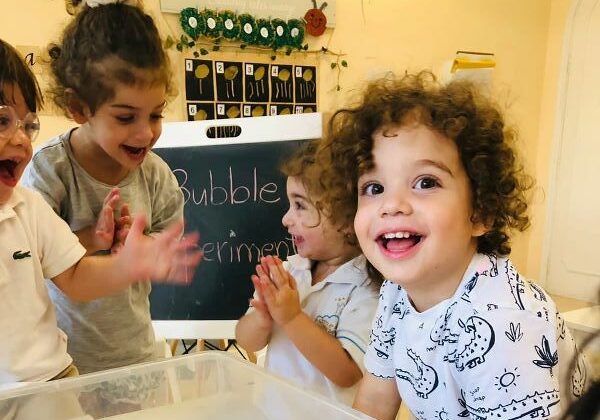 Phonemic Awareness: The Joy of Sounds
One of the early literacy skills introduced in kindergarten is phonemic awareness. Kindergarteners are encouraged to explore the sounds of various letters and how they come together to form words. Through rhymes, songs, and interactive games, children develop an ear for sounds.
Letter Recognition: Connecting the Dots
Recognizing letters is another vital aspect. Kindergarteners are introduced to the alphabet, both in its uppercase and lowercase forms. They learn to associate each letter with its unique sound, a significant step towards reading.
Understanding Word Formation: Putting It Together
Kindergarten also focuses on teaching basic sight words and simple words. Children begin to understand that these combinations of letters convey meaning. It's about connecting the dots between sounds and symbols.
The Teacher's Role: Nurturing the Reading Journey
As loving teachers at The Little Dreamers Nursery, we play a crucial role in nurturing early literacy skills. We believe in fostering a love for reading by creating a joyful and supportive environment for our young learners.
Reading Aloud: A Gateway to Imagination
We read aloud to our kindergarteners, immersing them in the enchanting world of stories. Through this, they grasp sentence structure, new words, and the rhythm of the language.
You might be interested in this article as well. Importance of Reading Aloud to Children
Interactive Storytelling: Engaging the Imagination
Interactive storytelling allows children to actively participate. They predict what comes next, expanding their understanding of storytelling and how words form sentences. (Storytelling for nursery)
Encouraging Independent Reading: Building Confidence
We gently encourage independent reading, providing age-appropriate books that they can explore on their own. This fosters confidence and a sense of accomplishment in their reading abilities.
The Magic Behind Nursery Rhymes: What Do They Really Achieve?
Fostering a Love for Books: The Library Corner at Little Dreamers Nursery
At The Little Dreamers Nursery, we understand the vital role books play in a child's early development. Our dedicated library corner is a cozy oasis, designed to be both inviting and inspiring. It's a place where the magic of reading comes alive.
Design and Atmosphere: Creating an Inviting Space

Our library corner is thoughtfully designed to stimulate a child's curiosity. It's adorned with vibrant colors, soft cushions, and eye-catching posters. The aim is to create an inviting atmosphere where children feel eager to explore the world of books.

Books Catered to Young Minds: Curating the Collection

We carefully curate our collection to cater to the varying tastes and ages of our little dreamers. Board books with vivid illustrations for the youngest, picture books with simple stories for beginners, and interactive books to engage budding readers — we have it all.

Storytelling Sessions: Bringing Tales to Life

Regular storytelling sessions are held in our library corner. Our passionate educators breathe life into stories, adding voices, expressions, and interactive elements. This not only enhances listening skills but also kindles a love for storytelling and reading.
Parents as Partners: How You Can Support Early Literacy at Home
We firmly believe that parents are a child's first and most influential teachers. Your involvement in your child's literacy journey is invaluable. Here's how you can be an active partner in nurturing early literacy skills at home:
Create a Reading Routine: The Power of Regular Reading

Establishing a daily reading routine at home sets a strong foundation. Set aside a specific time for reading each day. Whether it's before bedtime or during the afternoon, consistency is key.

Encourage Questions and Discussions: Fostering Comprehension

After reading a book, encourage your child to ask questions about the story. Discuss the characters, the plot, and how the story made them feel. This not only enhances comprehension but also encourages critical thinking.

Be a Reading Role Model: Let Your Child See You Read

Children often imitate their parents. When they see you engrossed in a book, they are more likely to develop an interest in reading too. Make it a habit to read in front of them, showing them that reading is enjoyable and important.
If you have an interest in understanding the difference between nursery and playschool or the difference between kindergarten and preschool, we recommend taking a look at the article
Conclusion: Encouraging Progress, Embracing Growth
In conclusion, kindergarten children are not expected to read novels, but this foundational year sets the stage for future literacy. The joy of reading is instilled in them, creating a strong base for their educational journey.
At The Little Dreamers Nursery, we celebrate every step of this reading adventure with our young dreamers. Enroll your child with us, and let's explore the magical world of words and books together! Learn more about our approach on our website. Join the best nursery in Dubai!