How do I teach my child to spend money wisely?
As early as possible, parents may foster good financial habits by teaching money management for children in a variety of engaging ways. The teachings could be taught in various contexts, such as a casual outing to the market, a classroom, or even the living room. It's easy and fun for parents to teach their children good money habits by modeling those behaviors themselves. We list some suggestions for teaching children about money below.
First, teach the value of real money, then move on to financial institutions like banks| money management for children
Younger children can benefit from the hands-on learning experience that physical currency provides. Handling money illustrates the fundamentals of money management for children, whether you teach children to save coins in a piggy bank or paper money in designated envelopes. Around the ages of 9 and 12, children develop the cognitive capacity to understand the significance of savings accounts.
Children of this age can learn the value of saving by putting some of their allowances into a savings account that pays interest. We can teach the usage of debit cards and other forms of representational currency to high school students as part of a course on personal finance.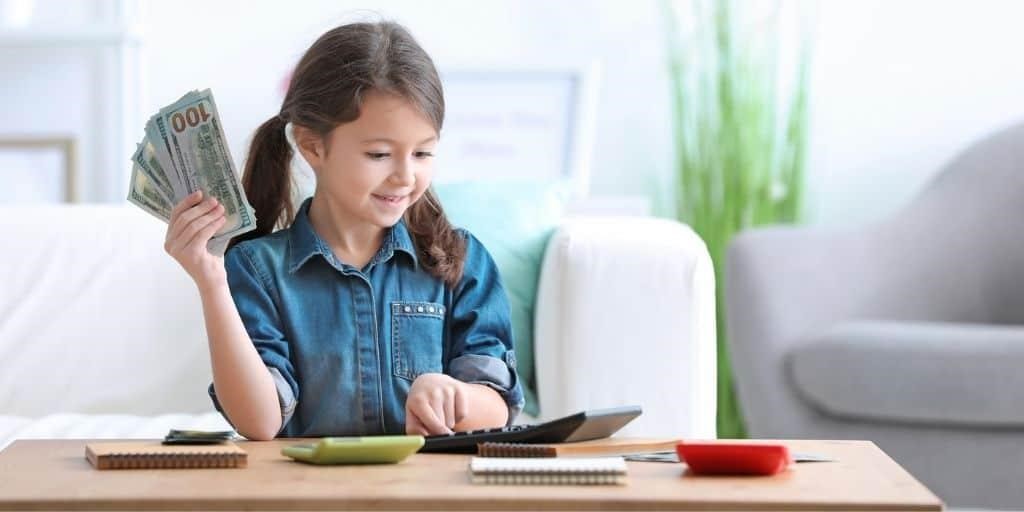 Allowances can teach children about saving, sharing, and spending
It is up to the discretion of each family whether allowances are contingent on completing household tasks. Giving children regular duties (such as cleaning their beds and feeding the family pet) is a good starting point, with the possibility of increasing their earnings through additional effort (like mowing the lawn or handling the family laundry).
We have tons of money management activities for children. Allowances can be handled in various ways, but it's crucial to stress the value of saving and giving as much as spending. A portion of a child's allowance can be put away in a savings account, while younger children may use piggy banks or envelopes.
 Don't miss an article about : What to teach a 4 year old
Teaching children to shop smart starts with learning to compare prices| money management for children
Even elementary school-aged children can get the gist of price-shopping comparisons, and it's one of the best ways to teach children money management for children. Show your children how you prepare for a shopping trip by preparing a list and perusing ads to get the best deals. Take your child with you next time you go food shopping to show them how you stretch your dollar further by comparing brands.
Teach your child how to get the most value for their money by comparison shopping using online sales circulars and store websites when they want to make a purchase using allowance or savings. You can also use various money games for children to help them better understand the subject.

Motivate them to increase their earnings
Children in middle school may not be old enough to have a job legally, but that doesn't mean they can't find other ways to make money. Also, they can better understand basic money management skills if they do simple jobs like this. If your child is looking to make a few extra bucks, here are a few suggestions:
Organizing and putting up a family garage sale
Collecting recyclables and transporting them to the recycling plant
Babysitting
Yard work in the summer
Snow shoveling in the winter
Housework for the elderly or disabled
Tutoring for children having difficulty
Pet sitting, and dog walking
Ask them to keep tabs on expenses| money management for children
Knowing where your money is going helps you save more effectively and enhances money management for children skills. Banking or credit card apps make it easier to keep tabs on spending, but the tried-and-true method of keeping a paper ledger is still an option. If your children receive an allowance, have them keep a record of what they buy each day and then total it up at the end of the week to see how they are spending.
Inspire them to evaluate their current spending habits and the impact a change in those habits would have on how quickly they could achieve their savings goal.
Be flexible and allow for mistakes
Putting children in charge of their finances involves allowing them to make mistakes and gain valuable experience. Its human nature to want to protect our children from making mistakes, but sometimes it's better to use those experiences as teaching children about money management opportunities. Thus, they will be prepared for future financial missteps and know precisely what to avoid.
Conclusion | money management for children
Keep in mind that money management for children is one of the vital lessons you can give your children. Because children are perceptive, setting a good example of your financial decisions is crucial. If you teach children money management at an appropriate age and maturity level, you can give them a leg up when they move out on their own. In our nursery in Dubai, we teach children the necessary money management skills for the journey ahead in a fun and educational way and let them learn from their mistakes.