5 important factors for pricing nursery fees in Dubai
Childcare is a very important issue. You are supposed to hand over the most valuable thing in your life (your children) to others. Therefore, you should know all aspects of this issue, including the nursery fee.
The kindergarten fees in Dubai depend on several factors. You need to know these influencing factors before choosing a nursery because they are effective on nursery price. Knowing these factors will help you to control your expenses for nursery fee more easily.
5 important factors for pricing nursery fees in Dubai
1.    Fee for kindergarten based on hours
Each nursery unit determines its price according to the number of hours that it provides its services. Of course, the more hours that your child attends, the more you will pay for the kindergarten fee. However, usually, the working hours of these units are in such a way that they include morning to noon.
Now, if you want to enjoy the service for more than certain set hours, you will have to pay for this also. The Nursery fee is connected to the hours your child will be using the services.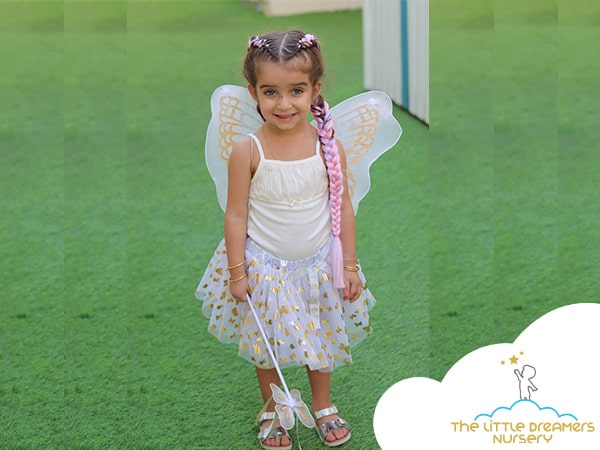 2.    Fees for a nursery based on different types of lessons and practices
In each nursery, there is a set of specific teachings that are given to children according to their age. This training can include skills to strengthen the senses, basic training to be in the community, to make friends or to strengthen visual skills through games. It may also include teaching simple topics such as numbers, colours, and letters of the alphabet.
The higher the quality of this training and curriculum of a nursery, the higher that the registration nursery fee will be. It's important to note that the use of modern methods of teaching for children is a major concern that is more important than nursery fees kindergarten school Dubai fees.

3.    Services available in a nursery
Some of the features in a nursery are related to educational topics. Some other benefits are related to the services that a nursery unit offers to children.
Both methods have different nursery fees. However, in the first method, the services in the facility will affect the preschool price. These services include educational space such as a classroom, game room, the number of classes, the number of children in each class, the number of meals and various educational programs based on kindergarten fee.
These factors will affect the nursery fee. So be sure to consider them when choosing a facility and paying for the nursery price.
4.    The geographical location of your desired facility
Dubai is a beautiful and large area. Now, depending on the geographical location of your nursery, the nursery in Dubai fee you pay also varies. If it is in the city centre, it is more expensive due to its easy access. The more socially better the areas are, the higher the cost for the preschool will be.
This connection between location and preschool price is due to the safety of children in some areas and facilitating access to the complex for parents.
Dubai, like many other parts of the world, considers different parts of the city to have different social and economic values. These valuations indirectly affect the nursery fee in the desired location. You can know the specific price by searching the cost of preschool near me.
5.    Certificate and teaching experience of nursery teachers
Your child spends significant hours of a day with the teachers in a nursery educational system. Therefore, teachers and people active in this executive and educational staff must have the needed capabilities.
Several essential features are available in all the institutions without considering the nursery price. On the other hand, some additional features make a teaching staff superior, such as the multilingualism of teachers or the use of up-to-date and specific teaching techniques.
These features make the nursery fee higher. It is not unreasonable that teachers with internationally recognised degrees get more money than others. These types of nurseries understand the importance for providing comfort and the highest level of educational quality for your children in a good nursery centre in Dubai.

6.   Fees for a nursery based on educational methods
At this age, your child's talents are nurtured and that is why we consider this age range very important. If the training method is not carried out properly during this period, this development of talents will not thrive. Each child has his/her own unique situation and they should be educated accordingly in response to this.
An institution that tries to use these methods instead of the usual methods will have a better quality of education. This quality also affects the nursery fee. Providing the needed environment for the development of children's talents is something more important beyond financial issues and kindergarten school Dubai fees.
Many may not consider this age important, but researchers have shown that many of the social and innate talents of children flourish at this age.
Your child's future is more important than the nursery fee. Therefore, regardless of the kindergarten fee, be sure to carefully consider your preferred training methods.
How much does the nursery fee cost?
Now that you know the 5 important and influential factors of kindergarten school Dubai fees it's important to remember that these 5 factors are influential in determining the nursery fee. The level of educational quality provided for your children are one of the most important factors that determine the preschool price.
Different prices are offered in different areas of Dubai. These prices are prepared for you in the minimum and maximum range. According to these 5 factors, there are different price ranges for the cost of preschool near me, which are often as follows:
8800 to 10000
10450 to 21000
15,000 to 20,000
21,000 to 32,400
30,000 to 40,000
30,000 to 50,000

Concluding remarks on nursery fee
You need to manage your expenses in every country and every region. This is also true in Dubai for the nursery fee. You need to know why some institutions are different in nursery prices from others. Moreover, you need to consider is this difference worth paying a higher fee for kindergarten?
Your children are the most important people in your life. However, it's important to remember that a childcare institution prioritises the well-being and education of children, regardless of the nursery fee that they receive. For this reason, it is necessary to know what factors are influencing the pricing of a nursery.
Why The Little Dreamers Nursery?
Nursery Tour
Application Submission
Tuition Fee, Documentation, and Enrollment